Jill Hansen, LMFT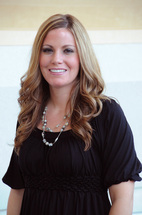 Jill Hansen is a Licensed Marriage and Family Therapist with the Aberdeen group. She has over 10 years of experience working with adults, families and children as well as providing marital therapy. Jill treats each client with respect and care as she walks with them through the process of change and growth.
Jill works from a variety of treatment modalities including cognitive behavioral therapy, client centered, motivational interviewing, play therapy and family systems.
She also offers Christian counseling to those interested in receiving guidance from a distinctly Christian perspective. Jill has worked extensively with issues of grief and loss, abuse, neglect, ADHD, bi-polar, anxiety, depression, school and parenting concerns.
Jill specializes in play therapy by providing a safe, nurturing and caring atmosphere. She helps children express their feelings, modify behavior, develop problem solving skills and other ways of relating to others through the process of play. Jill strategically utilizes play to help children express what they cannot verbally communicate. Through play, Jill can help children identify more healthy ways of expressing themselves emotionally and socially.
Jill also offers family therapy. She recognizes that f
amilies today are faced with a number of stressors including divorce and remarriage, depression, sexual abuse, substance abuse, and simply balancing the stress of life with the time that a family needs to connect. Family counseling is designed to assist family's in identifying the sources of conflict and learning healthy ways to solve problems and communicate.
Jill is licensed by the state of Indiana as a marriage and family counselor. She completed her
undergraduate
degree in psychology at Ball State University. She completed her Masters degree at Indiana- Purdue University in Fort Wayne, Indiana in Marriage and Family Therapy.